Wet Wings
Glory glory
- ACLSR4
---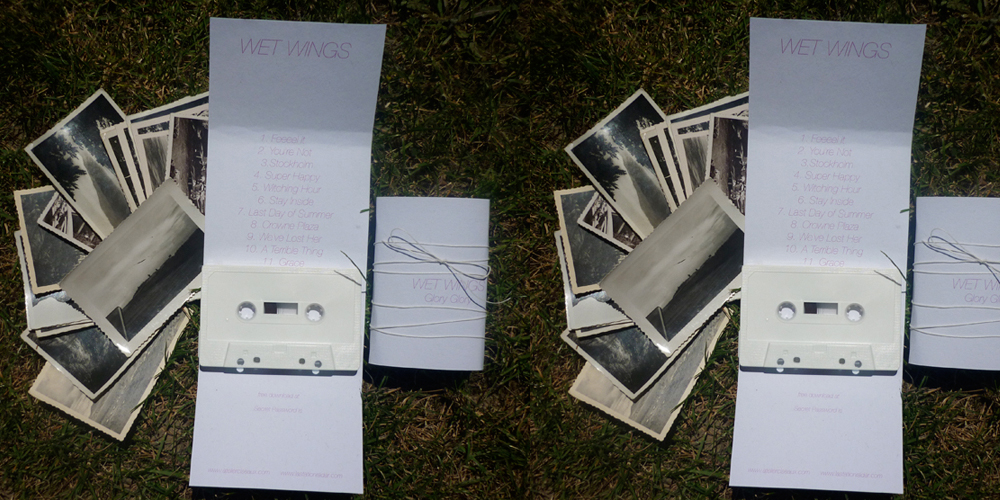 ABOUT
3.30pm on a Friday is usually not the time to be listening to an album you're supposed to be reviewing – especially when combining said album with trying to unjam a paper shredder that has been blocked for weeks. Yet putting 'Glory Glory' by Wet Wings on in the background while I forced paperclips, rulers and bobby pins in between the jaws of a god-forsaken machine was the best decision I made all week. My only experience with Wet Wings prior to this moment was seeing them play in the pool at Camp. At that moment I wondered why I hadn't heard them before, so I was excited to hear the album which explains my potentially erroneous timing of playing it. Thank goodness then, that it's so good.
The album opens with an airy, ethereal vocal that is gradually padded out by indiscriminate, but rhythmic, drum machine stabs, underpinned all the while by swirling synthesizers. It's is a brilliant opener, as it encapsulates a mood that pervades the entire record – uplifting, slightly wandering, thoughtful and overall sunny and exuberant. Throughout the record Lucy's vocals are delicate and sweet, mainly backed up by electric instruments and looped vocal layers, but occasionally a guitar, acoustic or electric, gets to pop its head in, along with Darien's reverb-soaked tenor. .. READ MORE
This is a summer album, so perhaps Wet Wings released 'Glory Glory' in the wrong season. It's filled with syncopated drum rhythms reminiscent of African-influenced pop (choose Vampire Weekend or Paul Simon at your pleasure), floaty guitar lines, happy backing vocals and hopping melodies. Track 3 'Stockholm' has perhaps the best payoff, with a warm and anticipatory build through the entire song to satisfying climax at a jangling guitar solo and a delightfully happy finish.
By half-way through the record I thought that it was going to be an interminably optimistic, joyous affair, which can often weigh heavily on my nerves, not being an interminably optimistic person myself, but the mellow, almost orchestral instrumental of 'Crowne Plaza' and the more melancholic 'We've Lost Her' added a reflective, gentle mood to the otherwise effervescent 'Glory Glory'. It is important to remember that this is not an album that hangs off a few hook-laden singles – instead it is more subtle, explorable experience, to be enjoyed over several plays and gradually familiarized with. Perhaps it might be on the slow side for some listeners, but I believe that all Lil' Chief listeners and many beyond will be well satisfied with this duo's latest output.
Like most Lil Chief records, this is a low-fi affair. Darien's vocals in particular are unpolished and raw – beautifully breathy and evocative. Low-fi is great – but Wet Wings' songs are strong, their harmonies and sense of arrangement and atmosphere are fabulous, and I think the overall sound of the album could be even more luscious and delicious. It would be fantastic to hear what they could do in a flash studio – their music could certainly translate well in a foxy studio environment and could aspire to be an all-ecompassing glorious bodily experience. ( Under The Radar )