SIERRA MANHATTAN - Are U single ? No, I'm album
- ACAB02
---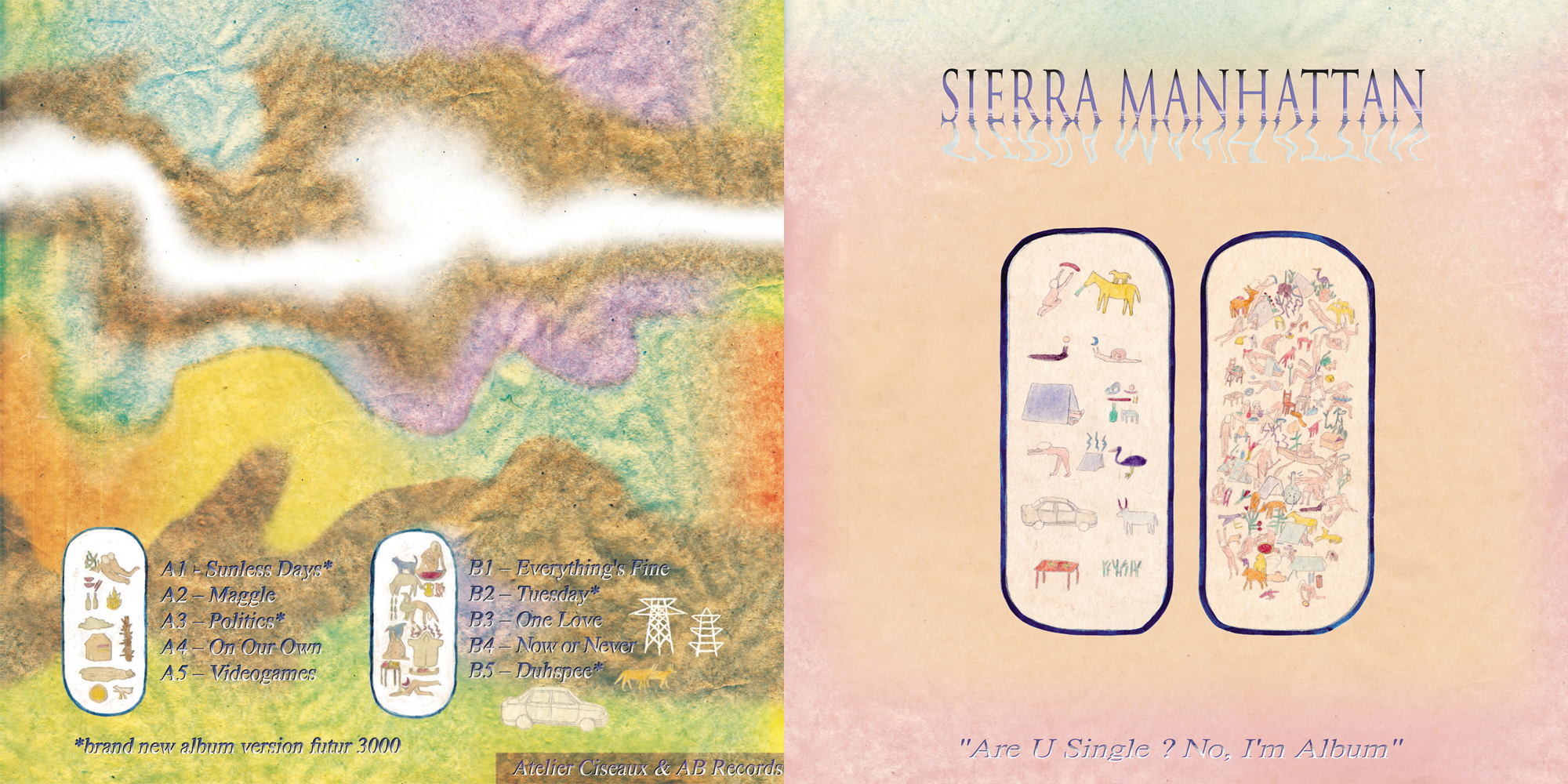 ABOUT
Meeting with someone, with a song or an idea, can often seem oddly familiar. Reminiscence of a forgotten passion or echo of a future obsession, it depends on your conception of time as a flat circle or a straight line that only a black hole (or an excellent record) can flex.
There are routes that have the apparent simplicity of the obvious and that would almost make us believe in destiny, if our souls were not already sacrificed to chaos.
Sierra Manhattan , initially Antoine Aubert's solo project, was born in 2012 in a tiny student dorm in Annecy (FR), under the holy influence of The You Are Minez and Juan Wauters . This was in parallel with his activity of co-CEO for the label AB Records . One move to Lyon later, and his first concerts already necessitate the reinforcements of the friends league.
Arrive then Alex Van Pelt ( Coming Soon , Mont Analogue , etc.), Rémi Richarme ( Satellite Jockey , Kcidy , Francois Virot Band ) and Flo Adrien ( Neptune Football Club and Satellite Jockey ) with whom Sierra Manhattan will skim Lyon's concert venues and capsize the hearts of a growing number of loyal enthusiasts.
By the End of 2015, Atelier Ciseaux and AB records teamed up to co-release Sierra Manhattan's album « s/t ». The tape – A side composed with solo material and B side with the full band – is surfing (laying down on the board, listening to the lapping ripples of the ocean) between love-fi pop and slacker rock. From there was born the idea of an album entirely arranged and recorded with the whole band, « Are U Single? No I'm album », during a week in March 2017 in the Beaujolais, under the supervision of Antoine « Skanky » Nouel, sound magician of many bands gravitating around AB Records.
We can listen again to the wanders of love which made Sierra Manhattan's success and trademark as the guitars effortlessly play by themselves. We can also discover other sides of the band – close to the live experience – with a political dimension, a rock tone (with influences like Northside, The Stone Roses , Manchester's scene , Television Personalities , The Brian Jonestown Massacre and others), rocksteady or dub (Alton Ellis, King Tubby). Sierra Manhattan, though, never quits its playfulness, ease and lightness on scene or on record.
After some plays, it is already impossible to remember the first time , the fist concert , the first record , as it becomes strictly impossible and unthinkable to imagine a world without those songs and this band . Time is like a vinyl record turning and bringing memories back to us loop after loop. (S.T. Hole)