---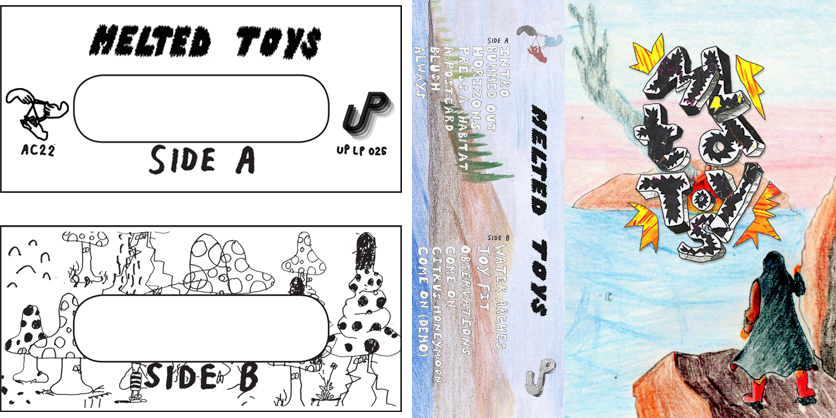 ABOUT
After three years of radio silence from San Francisco psychedelic popsters, MELTED TOYS announce their return with the release of their self-titled debut album this summer!
The vinyl version (and the digital) will be available on July 15th on Underwater Peoples and the tape version for Europe on Atelier Ciseaux. After the split 7′ shared with Dominant Legs on Atelier Ciseaux in 2011, we're really glad to work with them again for their first long play. .. READ MORE
The band consists of longtime pals Steven Harkins, Daniel Rosado, Brian Wakefield, and Ole Haarstad, and their casual bond laces the new LP with an unpretentious languidness that's both downcast and serene, while still retaining an uptempo pop feel. The eponymous work is reminiscent of mid-career FELT, where Maurice Deebank's somber leads colored each and every detail, rather than having just issued showy statements at predictable intervals. Highlights along the MELTED TOYS LP spark from timely synthesizer voicings as well, mixed in fantastic contrast against the shadowy mid-tones of Wakefield's bass and Haarstad's metronomic drums.
The three-year wait for this debut (since the wonderful "Washed & Dried" EP) has irked friends and followers close to the band, but it was the unfortunate result of a laptop left aboard a BART train to who-knows-where. And so it goes – MELTED TOYS seems to have used the guffaw to their advantage, having relocated to Los Angeles while singer-guitarist Steven Harkins traveled in Asia and wrote an additional half of the material.
In Tapei specifically, the sounds and visions of surrounding villages inspired Harkins and his partner Isabelle to take in as much as possible, everyday setting out, walkman in hand, to discover and explore the region. Harkins contends that his time away was imbued with a sense of musical voyage, with the goal of writing new stuff for MELTED TOYS (much of which was composed using an old acoustic guitar that Isabelle's father had used while playing in Taiwanese bands in the '70s).
Harkins' journeys framed a more patient and laid back approach to tracking, which in today's frenetic, all-or-nothing music market is certainly unusual, but of course has worked to Melted Toys' advantage. The songwriting process evident throughout the album is just as much about that space in between song creation, i.e. the life lived outside of music making – the waiting, the strangeness of dreams, and the redundancy of daily life underpinning the desire to escape. This is the color outside the lines of the album's twelve tracks, and the source of the album's emotive intensity.
Mixed by Rusty Santos (who was at the controls for Animal Collective Sung Tongs, and several excellent recent Warp Records releases).