François Virot & PHERN
Split
- AC39
---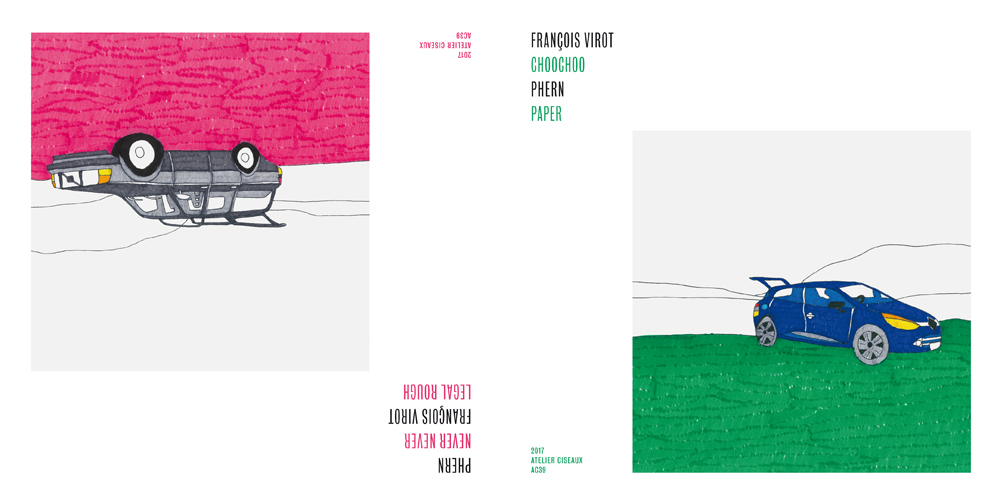 ABOUT
Lots and lots of memories, a bit of emotion as well ! Lyon (FR) and Montreal (CA) both played a precious role in the label's story. First record, many collaborations – hopefully endless – both places to meet, live and love. If the idea to launch an unofficial Instagram guide of franco-québécois tourism was quickly dropped, we propose you instead to discover those two beloved cities with this split record, shared between PHERN and FRANCOIS VIROT .
Super Montreal-based band (with members from Moss Lime, Lantern, Each Other, Soft Cone, Sheer Agony, and R U Real), PHERN , started in 2015, is putting us again in a « Cool Coma », title of their first album released by the Canadian label Fixture. Between pop oddities, multidirectional looseness and unreal lyrics, PHERN, always wearing shorts or almost, unveils two new tracks of hypnotic, brilliant and offbeat indie-rock that Universe recommends you to listen to, preferably during your « pause clope » or when you'll have this -strange- idea to scotch two bricks together. .. READ MORE
Despite the « amour fou » provoked by his first album, « Yes or No » (Clapping Music/ Atelier Ciseaux, 2008), FRANCOIS VIROT never went for the easy option. We had to wait until 2016 to finally listen to the Lyonnais's new LP « Marginal Spots » (Born Bad), played -this time- in good company (with musicians from Satellite Jockey, Coming Soon, KCidy, etc.).
From this prodigious « Yes or No » there is barely nothing left, exception made from his smiling voice and this generosity to create hits. The tempo is speeding off, velcro shoes are now laced-up, FRANCOIS VIROT offers us two tornado tracks of « slacker pop » which are going to put an endless smile on your face.
This record will be available on vinyl (limited to 200 copies) on September 28th on Atelier Ciseaux and will launch the beginning of a shared tour in Canada.