---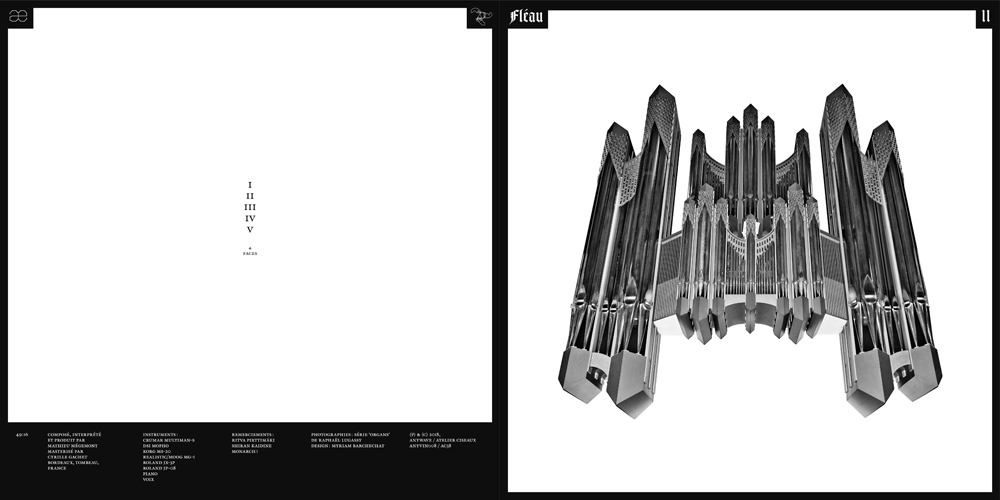 ABOUT
rooding and complex, totally immersive, sometimes aggressive but mostly cerebral, Fléau's music draws a labyrinthine course through the twilight hours. From snow driven paths to 10 lane highways we are steadily brought to the edge of a lonely precipice on the desolated horizon of the forthcoming apocalypse.
Fléau is the solo project of Mathieu Mégemont (a.k.a Le Mage), also a member of the bands Year of No Light, VvvV, and AE.
His first eponymous album was released in 2015 by Anywave: seven darkly‑tinted tracks, recorded with only an array of analogue synths, dirtied with fuzz and drowned in spring reverb. Where the overall atmosphere evoked John Carpenter's film-scores, some tracks were also reminiscent of Philip Glass' minimalism. All this sustained by synthetic strings in the style of French producer Christophe, most prominent on the album's anthemic finale Glass Cathedral . .. READ MORE
His second album is witness to a more progressive direction. In opposition to the minimalist aesthetic of his first album, Fléau now imposes his will with a desire for the grandiose through five long narrative tracks, each one an acoustic short film projected directly on the listener's imagination.
Reversing the 'imaginary soundtracks' process, he creates tracks that are like imaginary worlds without storylines. Their duration and the absence of any lyrics bringing to light both their narrative and abstract dimensions, aiming to evoke a cinematic experience through sonic textures evolving over long sequences.
Far from synthwave formulas—to which Fléau might have been previously related with—, he forbids himself from using loops and samples, instead he focusses on carefully wrought harmonic progressions. This new LP is indeed an album of progressive music, proudly inherited from a tradition of incorporating the canons of classical music into pop music, minus the virtuosity and demonstrative aspects.
Its complexity relies on the diversity of sounds and evocations: the use of crystalline arpeggios, close to glockenspiels, refers as much to Goblin's scoring Argento's films as to Carl Orff's Schulwerk , with haunting echoes of forgotten nursery rhymes. In search of a form of innocence, Fléau's approach is rooted in childhood's contempt for good taste and permeability to emotions. Inspired by the synthetic orchestrations of Wendy Carlos, without denying their kitschy side, or popular music of the 1970s (Christophe, François de Roubaix, Ennio Morricone), he uses catchy melodies as a gateway to a more experimental aspect of his music: the chiseling and arrangement of increasingly complex sound matter, created with an ever more impressive range of synthesizers. Neither does he deny the influences of his adolescence, revealing the almost abstract dimension of black metal guitars and reactivating in his own way the leaden weight of riffing doom.